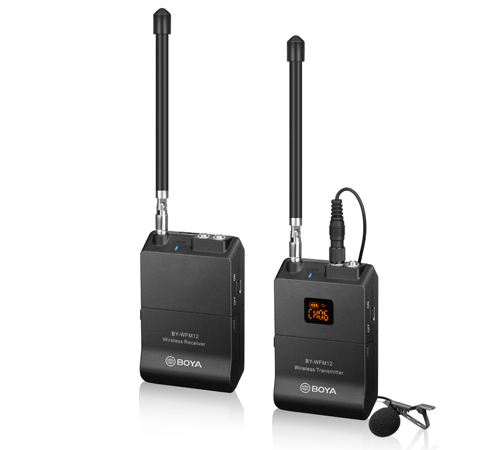 BOYA BY-WFM12 VHF Wireless Microphone TX+RX System
AED 365.00
Compatible for Smartphone, Tablet, DSLR, Camcorder, Audio Recorder, PC etc.
12 switchable channels to keep you free from interference
High-band VHF operation for superior sound
Two MIC jacks for transmitter
Automatically matched for Receiver
Volume control wheel
Detachable and flexible antenna with rotating 360° function
Operation range up to 40m (131 feet) away without obstacles.
Compact and easy to use
Powered by two AA size alkaline batteries for both Receiver and Transmitter
Description
The BOYA BY-WFM12 is a 12-Channel VHF Wireless Microphone System, capturing audio with smartphones, DSLRs, camcorders, audio recorders, PCs and more.
This system is ideal for interviews, film making, and business presentations, or other applications that require portability.
Each transmitter has two MIC socket, it allows to use two microphones at the same time.
Both the receiver and transmitter are lightweight and easy to use, offering flexibility without sacrificing high-quality audio.
while operating at a range of up to 40m (131 feet) away without obstacles.
High-band VHF operation for superior sound
Wide compatibility for smartphones, DSLRs, camcorders, audio recorders, PCs
Compander-Free System assures the delivery of high-quality audio
12 switchable frequencies for interference-free operation
Automatically matched frequency for Receiver
Real-time monitoring capability with included earphone
Detachable and flexible antenna can be positioned for best reception
Receiver and transmitter are each powered by two AA batteries
---
Specifications:
Operation Frequencies: 204-215MHZ
Modulation Frequency: DQPSK
Channels: 12
---
Transmitter
Modulation Sensitivity: 6 mVinput for full deviation
Battery: LR6/AA size alkaline battery(not included)
Current Consumption: 160 mA
Dimensions: 102×62.0×44.7mm(4.0″×2.4″×1.8″)
Antenna Length: 142mm(5.6″)
Weight: 80g(2.8 oz)without battery
---
Receiver
Reception Sensitivity: 2μV for 30dB S/N
Output Connector: 3.5mm(1/8″)TRS
Battery: LR6/AA size alkaline battery(not included)
Current Consumption: 140mA
Dimensions: 102×62.0×44.7mm(4.0″×2.4″×1.8″)
Antenna length: 142mm(5.6″)
Weight: 80g(2.8 oz)without battery