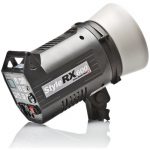 Elinchrom Compact Style RX 600 ( One head )
AED 3500.00
Flash System 600 Watt/Second Monolight
Description
Ultra consistent performance for every digital application (multi and single shot digital imaging).
6 f-stop range.
Rapid recycling times always maintaining stability.
Action freezing flash durations at full power. Style RX 300: 1/2850 s; Style RX 600: 1/2050 s; Style RX 1200: 1/1450 s (all at t=0.5.)
Proportional, maximum, minimum and independent adjustment of the modelling lamp.
EL-Skyport: Radio remote control and triggering! Set flash power and switch on/off the modelling lamp with the ELS Transmitter Speed and the optional ELS Transceiver RX.
Unique control from an iPhone™, iPad™ and iPod Touch™ with the EL-Skyport App via the optional WiFi module.
Remote your complete RX studio with the EL-Skyport Software*, control up to 4 studios of 16 units with EL-Skyport RX or access extra features like flash counter or flash delay for strobing effects.
Low 5 V sync voltage protecting digital camera systems.
Optional cable remote control with large digital LED feedback display of all functions!
New dark grey, fire retardant, robust body shell encasing the cast alloy chassis.
Lightweight elegance for easy out of studio use.