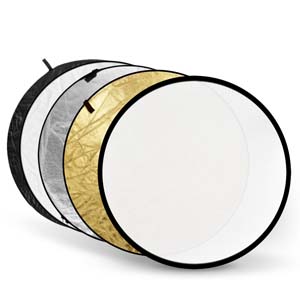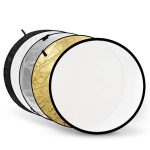 Godox collapsible reflector 5-in-1
AED 150.00
Gold-Silver-Black-White-translucent, RFT-05 80cm
Description
Highlights:
* High-quality materials
* 80cm
* Convenient zipped round carrying bag included
GODOX Collapsible Reflector is removable reversible zippered slipcover to reflect light into shadow areas of the subject. It is a must for better lighting control in outdoor or studio photography. It creates smooth and even reflections, and especially invaluable for "fill-in" light when taking portraits, close-ups, still life, nature and also product photography.
Features:
· A reversible cover offers a choice of 5 surfaces: gold, silver, black, white, translucent
· Round/oval, folds down to about 1/3 of its open size and store easily in its own bag
· A wide range of sizes available: 60cm, 80cm, 110cm, 60x90cm, 80x120cm, 100x150cm, 120x180cm, 150x200cm (open diameter)
· Durable and flexible steel spring frame, easy spreading and closing
· The spring frame is covered with white translucent material that can be used to diffuse both studio light and direct sunlight.
· OEM/ODM is OK
Silver – increase the specular highlights and yields a high-contract, cool tone image, perfect for video, product shots and B&W photography.
Black – block out unwanted light
Soft Gold – a mixture of warm and neutral
Gold – has a sunset effect and warms the scene, producing a natural, golden fill that is great for sunsets, jewelry and indoor portraits.
White – produces an even, neutral-colored bounce light that works beautifully as a fill light source for both products shots and indoor/outdoor portraits.
Translucent – used to diffuse light, producing a broad light source and a soft, wraparound effect that's perfect for outdoor portraits or whenever a softer light is needed.
Packaging Includes:
1 * reflector
1 * carrying bag