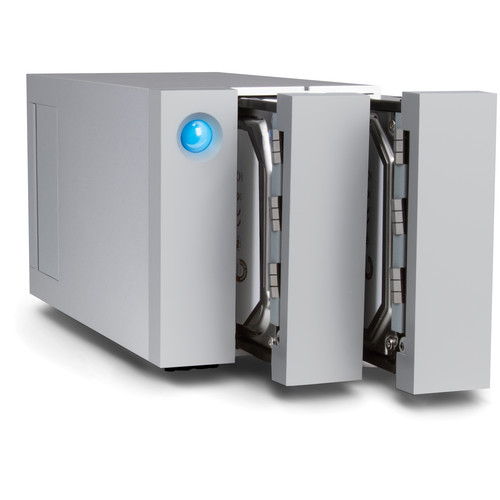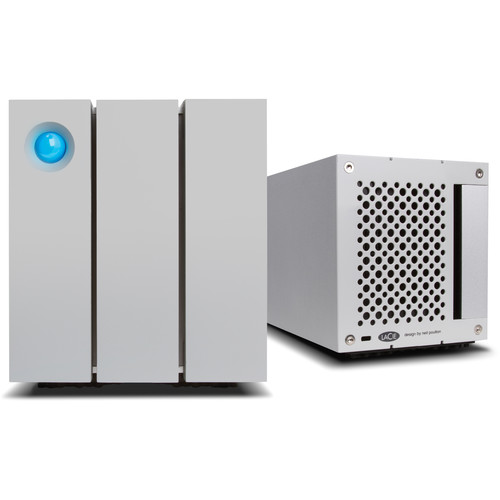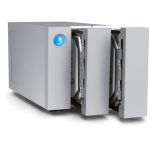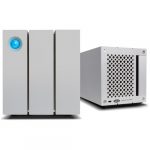 LaCie 12TB 2big Thunderbolt™ 2
AED 4225.00
Description
Speed and Reliability. By Design.
Shocking speeds up to 420MB/s*
Dual Thunderbolt 2 ports for 4K workflows
Innovative design with RAID for reliability
USB 3.0 for PC and Mac® compatibility
design by neil poulton
The LaCie 12TB 2big Thunderbolt 2 Series 2-Bay RAID implements the use of Thunderbolt 2 technology to provide enhanced data transfer rates of up to 420 MB/s. These enhanced data transfer rates make it possible to work with both 2K and 4K content with little to no lag. Additionally, you can browse RAW photo libraries with no lag at all. Along with dual Thunderbolt 2 ports, the LaCie 2big Thunderbolt 2 also comes equipped with one USB 3.0 port making it compatible with Windows based systems.
This dual-bay storage enclosure also features two hot-swappable drive bays. The drives inserted into these drive bays can be configured to suit a variety of storage needs as this LaCie 2big comes preformatted in HFS+ and preconfigured in RAID 0, and can easily be reconfigured to RAID 1 or JBOD modes via the easy RAID selection button. Along with the various RAID configuration modes, you can also take advantage of AES 256-bit software encryption, a Kensington lock slot, and an integrated cable lock for added piece of mind.
Thunderbolt 2 Speeds

With Thunderbolt 2 technology the LaCie 2big Thunderbolt 2 is able to take full advantage of the absolute best speeds out of the hard disks. Add a hardware RAID controller and 7200 rpm disks and you benefit from sustained speeds of up to 360 MB/s that greatly reduce the time it takes to transfer large files and create backups.
2K & 4K Video Compatible

With the speed offered by the Thunderbolt 2 connectivity, videographers can edit multiple 2K uncompressed 10-bit streams or play back compressed 4K video. Digital photographers can browse a massive RAW photo library with zero lag. And, thanks to support for DisplayPort 1.2, it's now possible to daisy chain higher-resolution displays such as 4K monitors.
Versatility for Pro Environments

With USB 3.0 and Thunerbolt 2 interfaces, the LaCie 2big gets enhanced speed on any late model PC or Mac. And, USB 3.0 backward compatibility means that you can connect the LaCie 2big to any standard computer. With support for exFAT and a built-in hardware RAID, you can seamlessly connect to both PC and Mac computers without losing your RAID configuration.
Daisy Chain Support

Thunderbolt 2 continues to support daisy chaining of up to six devices to a computer via a single cable (included in the box). This means that professionals can daisy chain up to five LaCie 2bigs plus a 4K display to a computer, bringing capacity, enhanced speed, and convenience. Thunderbolt 2 is also backward compatible and uses the same cables and connectors as first-generation Thunderbolt devices and computers.

To achieve full Thunderbolt 2 bandwidth, connect the product to a Thunderbolt 2 port on a computer or device
RAID for Speed or Security

In addition to compatibility with any computer, a hardware RAID delivers sustained performance and better reliability than software based RAIDs. The LaCie 2big's range of RAID modes also gives you the flexibility to tailor the product to meet your needs. It's easy to change the RAID mode, but nearly impossible to do so accidentally. You can leave it in RAID 0 (FAST) mode to maximize speed and capacity for working on current projects, and then move completed projects to archival storage quickly.

Hot swapping will result in data loss in a RAID 0 array
Additional RAID Modes

The LaCie 2big can also be configured in RAID 1 or Mirroring (SAFE) mode, which provides data protection if one disk fails. And thanks to hot-swappable disks, you can simply replace a disk – from the front – with zero data loss and no work interruption. Even in RAID 1, enhanced transfer speeds reduce the time it takes to perform backups, making it easier to back up more frequently. The LaCie 2big even features JBOD, so you can see and use each disk independently.
Power Saving Mode

Save energy by pressing the power button to spin down disks without interrupting daisy chain transfers. Press and hold the button to shut down the product completely.
Front-Accessible Disks & Disk Status LEDs

Conveniently and quickly remove and replace disks from the front of the product. Keep track of disk health and RAID build status with the front-facing disk status LEDs.
Redesigned Heat Dissipation System

The cooling system more effectively diverts heat from components, ensuring long-term reliability. The fan pulls cool air through an unobstructed path from the front to the back. And the rear exhaust area size is 500% larger, allowing hot air to escape much faster.
Integrated Cable Lock

Prevent accidentally disconnected interface or power cables without compromising the look and design of the product.
Effective, Whisper-Quiet Noctua Fan

Work in silence thanks to the ultra-quiet, thermo-regulated Noctua NF-A6x25 FLX fan. Not only does it turn on and off and at different speeds according to temperature, it also features extra-large blades, located at the rear of the enclosure. As a result, the fan produces an almost imperceptible amount of noise.
Wider and More Stable

Thanks to a wider footprint but 10% more compact design compared to the previous generation of LaCie 2big▲, the new LaCie 2big is less likely to tip and is even easier to stack.
Professional Backup Software Suite

With a bundled professional backup software suite and compatibility with Time Machine and Windows Backup, the LaCie 2big includes everything you need for secure backup. And with email alerts, professionals can monitor their storage before potential problems escalate. This product also includes LaCie Private-Public software, which lets you prevent unauthorized access by password-protecting volumes with AES 256-bit encryption.