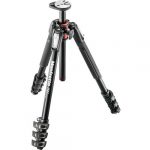 Manfrotto MT190XPRO4 Aluminum Tripod
AED 799.00
Description
Load Capacity: 15.4 lb
4 Leg Sections
90° Column Feature
Maximum Height of 63″
Minimum Height of 3.2″ (8.0 cm)
Folds to 19.2 (49 cm), Weighs 4.6 lb
(QPL) Quick Power Lock for Legs
Individual Leg-Angle Settings
Easy Link Plug, Leg Warmers on 2 Legs
Rotating Bubble Level
Fast Setup with QPL
The Quick Power Lock (QPL) system is one of the most eye-catching and unique features of the redesigned 190. It is a strong, ultra fast, ergonomic locking system that allows for complete extension of the legs with one hand.
90° Column

One of the most innovative aspects of the 190 series is its compactness, which allows for easier portability. The redesigned patented 90° Column is accessible whenever you need it with simple one finger operation.
Easy Link Plug

The plug allows instant connection between tripod and accessories, such as LED lights for macro photography and DSLR video applications using Manfrotto articulated arms and brackets.
Rotating Leveling Bubble

The bubble is easy to read, whatever the shape of the head or however the tripod is positioned. Just rotate it towards you for easy viewing.
Leg Angle Selectors

Each leg has user selection of 4 angles to accommodate uneven ground or rough terrain. The selectors are manufactured according to most innovative ergonomic standards to prevent fingers and nails being trapped in the upper casting.
Manfrotto's Eye to Style and Design Detail

The entire shape of the tripod has been modified and made more manageable and stylish. The complete redesign of its functional elements shows a particular attention to aesthetics and details: the brand name, for example, appears in many sections of the new 190, including the two legwarmers made of comfortable rubber to provide a secure grip and prevent the conduction of heat and cold in extreme weather conditions.