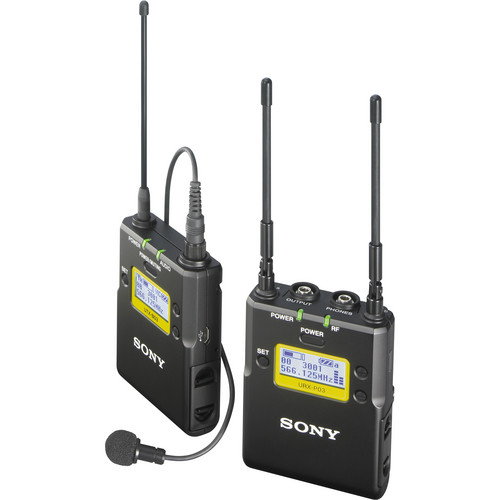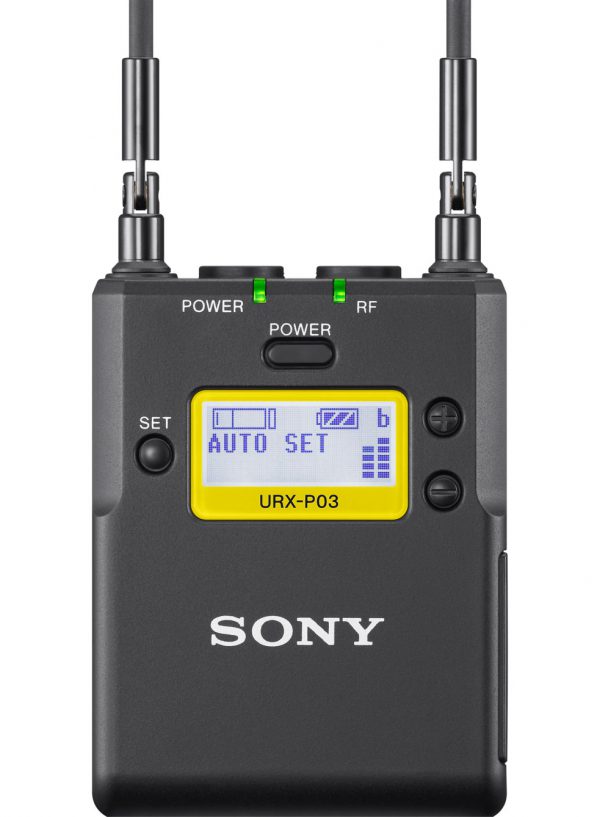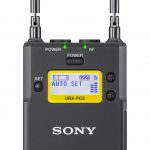 Sony UWP-D11 Integrated Digital Wireless Microphone
AED 2100.00
Description
PRODUCT HIGHLIGHTS
UTX-B03 Bodypack Transmitter
URX-P03 Portable True Diversity Receiver
ECM-V1BMP Electret Condenser Lavalier
Digital Companding Circuitry
Selectable Mic/Line Input
USB Charging and Power
Tone Squelch Suppression Circuitry
Automatic Channel Scanning
Infrared Synchronization
Simultaneous Multi-Channel Operation
The Sony UWP-D11 Integrated Digital Wireless Bodypack Lavalier Microphone System features all-metal construction, easy to read LCD displays, a wide switching RF bandwidth, USB power and charging, automatic channel scanning, infrared synchronization between transmitter and receiver, Mic/Line switchable input on the bodypack transmitter, a true diversity receiver, PLL-synthesized tuning, a headphone output on the receiver, output gain controls on the receiver for optimizing the input level into a camera, and digital companding circuitry. The package is suitable for a wide range of wireless applications such as ENG, documentary work, talk shows, conferences, and more.
The system is referred to as integrated digital because the transmitter and receiver utilize DSP for digital companding and expanding of the transmission signal. Performing the companding and expanding processes in the digital domain improves the accuracy and transient response of the received audio.
The camera-mountable receiver features true-diversity technology which stabilizes reception and minimizes RF interference by using dual antenna input/reception circuits and selecting the strongest incoming signal. The angle of the antennas is also adjustable to improve reception when the receiver is mounted on top of a camera or camcorder. The system utilizes UHF Phase Locked Loop (PLL) synthesis to lock the phase of the transmission frequency between transmitter and receiver. The receiver can automatically search for an available transmission frequency and link the desired frequency to the transmitter via infrared connection.
A stereo mini-jack output with monitor volume control is included and both stereo mini and stereo XLR cables are provided. The unit also includes a headphone monitor output for use with cameras and camcorders that don't have a monitor output. An LCD display provides channel and frequency information, battery life, RF-input level, audio-output status and accumulated operating time.
For power, the receiver operates on two AA batteries for up to 6 hours, or on 5 VDC of USB power over a USB micro B cable. The USB connection can also be used to recharge Ni-MH rechargeable batteries within the battery cartridge. The receiver's compact design and included shoe-mount adapter allows easy mounting to most camcorders and interchangeable lens system cameras.
The improved bodypack transmitter features a mic- and line-level switch for standard wired microphone or line-level sources. Selectable transmission output power provides a choice between 5mW output, which is suitable for simultaneous multi-channel operation, or 30mW output for long distance transmission.
The transmitter can operate for up to 8 hours on two AA-size alkaline batteries, be powered or recharged via USB micro B connection, and features a comprehensive LCD display.
The system comes with an omnidirectional lavalier microphone, a windscreen for the microphone, a microphone holder clip, two belt clips, a shoe-mount adapter, a 3-pin mini to mini stereo cable, and a 3-pin mini to XLR cable. Optional accessories such as a battery case and soft case for the receiver are sold separately.