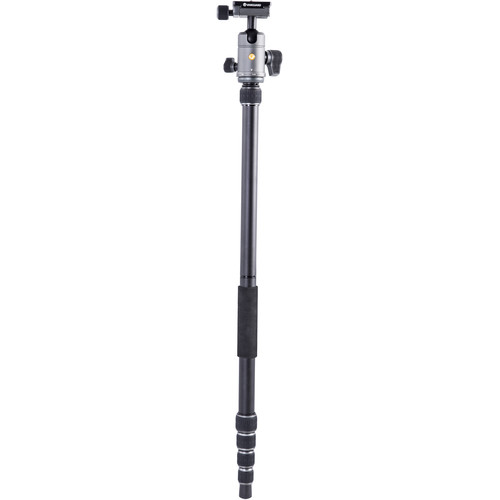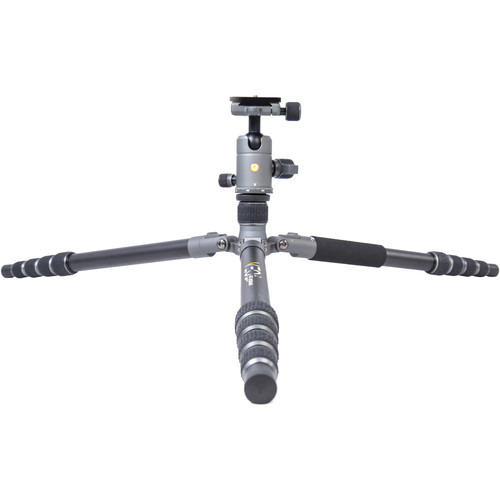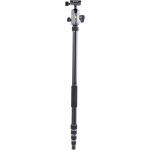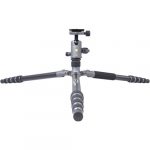 Vanguard VEO 2 GO 265HABM Aluminum Tripod/Monopod with T-50 Ball Head
AED 660.00
Load Capacity: 22.0 lb
Maximum Height: 65.5″
Minimum Height: 9.5″
Folded Length: 16.1″
Leg Sections: 5, Weight: 3.7 lb
Reversible Column, Low-Angle Column
Aluminum Alloy Legs, Twist Locks
29.8 to 66.9″ Monopod-Convertible Leg
T-50 Ball Head, Dual Bubble Levels
QS-60 V2 Arca-Type Quick Release Plate
Description
This VEO 2 GO 265HABM Aluminum Tripod/Monopod with T-50 Ball Head from Vanguard is a support system that features a tripod with a detachable leg and removable center column that can be combined to form a monopod with a 29.8 to 66.9″ adjustable height. Cameras, lenses, or sport optics that are compatible with a 1/4″-20 mount can be connected to the included quick release plate, which is secured to the tripod/monopod's ball head using an Arca-type quick release clamp. The T-50 Ball Head is removable, provides up to a 91° tilt for portrait orientation and 360° of independent rotation, and can be locked into place along its range of movement.
When configured as a tripod, the VEO 2 GO 265HABM Aluminum Tripod/Monopod with T-50 Ball Head supports up to 22.0 lb and measures 16.1″ when folded. Each of its 5-section legs features an independent spread, a 3-position angle lock, and twist locks for rapid deployment. As a tripod, it can be set at a minimum height of 9.5″ when its removable, push-and-pull, rapid center column is substituted with the included Low Angle Adapter. Together, the three legs can be extended to obtain a maximum height of 49.6 or 65.5″ when used with the center column fully raised. Each of the aluminum alloy legs includes a rubber foot, and to further enhance stability on a wide variety of surfaces, including soft or uneven soil, a set of spiked feet is also provided.
For added versatility, the center column is reversible, facilitating lower-angle photography where an attached camera is positioned among the tripod's legs instead of above them.
A nylon carry bag is provided for storage and transport.
Use and Handling
Supports up to 22.0 lb
Push-and-pull, twist-lock rapid center column with ballast hook for rapid camera, lens, or sport optic positioning
Can be set for a maximum height of 49.6″, or 65.5″ with the center column fully raised
Low Angle Adapter allows minimum height of 9.5″
Center column is reversible, facilitating lower-angle photography where an attached camera is positioned among the tripod's legs instead of above them
Legs each feature 5 sections, with twist locks for fast deployment, and can be independently spread
Legs can be locked at 21°, 50°, or 80° angles
Rubber feet help to enhance stability on a wide variety of surfaces
Spiked feet are also provided to further enhance stability on a wide variety of surfaces, including soft or uneven soil
Weighs 3.7 lb, measures 16.1″ when legs are reversed 180° and folded
Arca-type T-50 Ball Head provides up to a 91° tilt for portrait orientation and 360° of independent rotation, and it can be locked into place along its range of movement
Removable center column and one detachable tripod leg can be configured as a monopod with a 29.8 to 66.9″ adjustable height along with the included ball head
Detachable tripod leg and included ball head only can be configured as a monopod with a 17.8 to 48.3″ adjustable height
Rubberized cover on the detachable tripod leg provides a secure and comfortable grip
Construction Details
Aluminum alloy legs
T-50 Arca-type, aluminum alloy quick release ball head with two built-in bubble levels to accommodate landscape or portrait orientations
QS-60 V2 Arca-type, aluminum alloy quick release plate with 1/4″-20 mount, D-ring, and rubberized, anti-slip surface
1/4″-20 to 3/8″-16 reducer bushing for center column allows attachment of accessories that feature 3/8″-16 accessory threads
Included nylon carry bag for storage and transport of the tripod with ball head